Let's be honest about something – unless you're a maestro in the kitchen, you probably prefer eating out to cooking at home. For most of us, there's only one snag to that – the cost. At a restaurant, you pay not only for the food but for someone else's preparation, cooking, and serving. Here, we round up our top five restaurants, all great for solo, social and family outings, that keep your stomach full and your wallet fuller.
Banana Leaf in Manama, just down the road from JJ's restaurant, serves Asian/Thai cuisine with numerous vegetarian and vegan options. Among the most recommended dishes are tom yam, stir fries, and delicious shrimp tempura, with most dishes ranging from 2-4 BHD. Make sure to request your preferred level of spiciness, or you might not be able to handle the kick!
Home Town Grills in Juffair, just next to Nando's, focuses on – yes, you guessed it – grills! However, they have more menu options for pastas, charcoal-grilled burgers and shawarmas. Arabic breakfast options are particularly appealing and cost up to 2 BHD. The average price for all kebabs is 2.5 BHD.  If you are really up for a feast, even a large mixed grill won't set you back more than 10 BHD – though it is unlikely you could finish one on your own.
Al Abraaj A family favourite and a household chain, this restaurant, as a chain, is scattered around the country: find one in either Sehla, Adliya, Riffa, AlA'ali Mall, Seef Mall, Bahrain Mall, Sitra Mall, City Centre, Hoora, Juffair, Adhari Park, or Budaiya – so that's Bahrain covered! Eating here is cosy, casual and you will always enjoy good service and good food, worth every dinar. Enjoy grills that average a cost of 5 BHD, curries for approximately 3 BHD, shawarmas for around 2.5 BHD and more.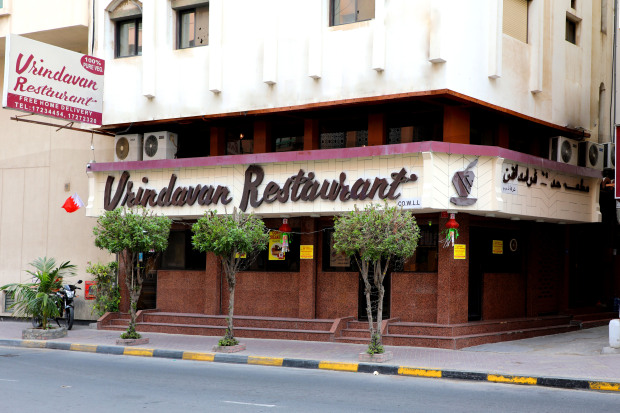 Vrindavan in Manama is a no-frills family favourite for many, the kind of place people tell you they have frequented for years and hasn't changed at all. It boasts authentic South Indian cuisine, which means yes, completely vegetarian and 100% tasty. If you love spiced veg with rice, masala dosa, daal tadka and a side of sweet lassi, here is where you want to be. Tip: if you can, try to go on a weekday as parking can be a hassle. For less than 5 BHD, you can order four appetizers, three masala dishes and two soft drinks. For more information, call 17272320 or 17234454.
Finally, to satisfy your sweet tooth, we recommend Cine Cafe which has branches in Riffa, the Diplomatic Centre, City Centre and Adliya for French/Belgian/Arabic desserts in addition to savoury meals. The menu prices range from 2 – 6 BHD, whether you fancy a full English breakfast, mushroom risotto or a pizza crepe. If you'd rather tuck into some dessert, you'll be pleased to see 22 sweet crepe options, lava cakes, waffles and a Kinder hot chocolate that can be yours for only 2 BHD.
Do you know of places we may have missed out on? Let us know in the comments!